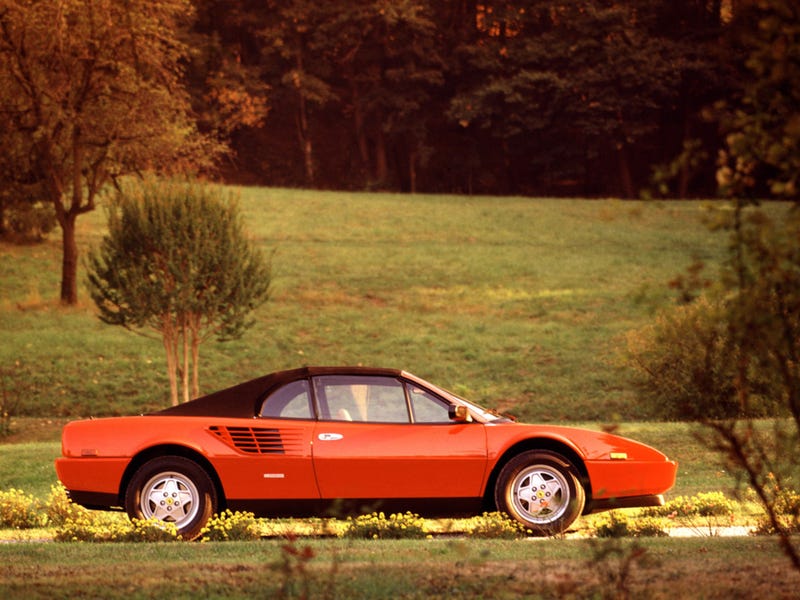 For a long time, I've been contemplating entering a car in a LeMons race. If you read my blog, you know I tend to have extremely outlandish thoughts, which thankfully don't end with me spending any of my meager amount of cash attempting to fulfill them. These involve things like wondering whether I should buy a Centennial-edition 2003 Ford Mustang GT as an investment to installing speakers in the headrest of my car.
A couple weeks ago, with that "I want to race in LeMons and I don't care what anyone thinks" spirit, I wrote a piece about getting a Ferrari into LeMons. This, of course, ended up being the Mondial, since so many of them are available under $30K. I even came across three potential cars which I referenced as potential race winners, because I didn't expect the B.S. judges to give me penalty laps based on the fact they're actual Ferraris and I'd be in the pits most of the time.
Of course, nobody read it, because other than that article, the words "Ferrari," Lamborghini," "Aston," "Martin," "Pagani," "McLaren," "Bugatti," and "Koenigsegg" have been written nowhere else on that site, as my car enthusiast friends keep on reminding me. All of this hasn't contributed to my Google search rankings, which is why I felt compelled to bring it up here, on Jalopnik, where at this point you'd rather watch Travis getting pranked by Jeff Gordon yet again.
At this point, we all know how to enter cars in LeMons. (If you don't, Stef Schrader might like to have a word with you.) But I'll summarize. Basically, you have to find a car under $500, or find a car for a price above $500 but sell off enough of its parts to get the final price under $500. Of course, there must be receipts for all of that. There are a few other safety rules but I'll gloss over all of that because you're racing a Ferrari.
But that's the most difficult part of getting a Ferrari into LeMons. It's getting the price under $500. Everything else just takes money. Installing the roll cage. Getting a fire extinguisher. Buying race suits and a helmet. Putting on good tires and brakes. As well as for the first time in the car's life, getting the fuel delivery system to work totally right, which I can totally justify to the BS judges as an integral part of driver safety. After all, they don't want a fire breaking out on track, as Ferraris tend to do.
Now, I only seriously contemplated using a Ferrari after I read a piece by Murilee Martin about teams that created their own (fake) Ferraris for LeMons. Much of that involved teams painting their MR2s, Fieros, 240Zs, and even an Opel GT red and giving them undeserving painted-on Ferrari badges. However, I thought if I was to enter a Ferrari, I would go all out, and you know, actually use a Ferrari. After all, it couldn't be that difficult.
I thought of Ferrari models I could use. A 400i? The GM automatic would go soon and working on the engine is a nightmare. Especially when it has to be removed from the car. A 250 GTO? I'd have to rob a bank only for the race organizers to "claim" it for themselves. A 308? I'd have to grow a mustache to make it worthwhile. How about a 360? Doug DeMuro would come after me with a fire extinguisher. But then I decided on the Mondial.
Why did I choose the Mondial? An important reason was the fact that the drivetrain parts are interchangeable with the 308 and 328, which helps maintenance costs, compared to a Ferrari with a V-12, like a 400. Also, there are many of them populating consignment shops and upper middle-class individuals' garages across the country, evidence of expensive mistakes, short of that time they invested in Enron stock back in 2000. And on my fun mid-engined cars list, I regretted that my reason for its inclusion didn't involve racing against other cars on the track, like Enzo would've wanted.
I've referenced the Mondial in prior posts, where I listed it as an "affordable" mid-engined, rear-drive vehicle which was fun for all the wrong reasons (like being an actual Ferrari owner on FerrariChat). Clearly, I didn't bother including maintenance as part of the equation. (If you wanted that, the same list included the Fiero, which I've been told has the same tendency to catch on fire as a modern-day Ferrari.)