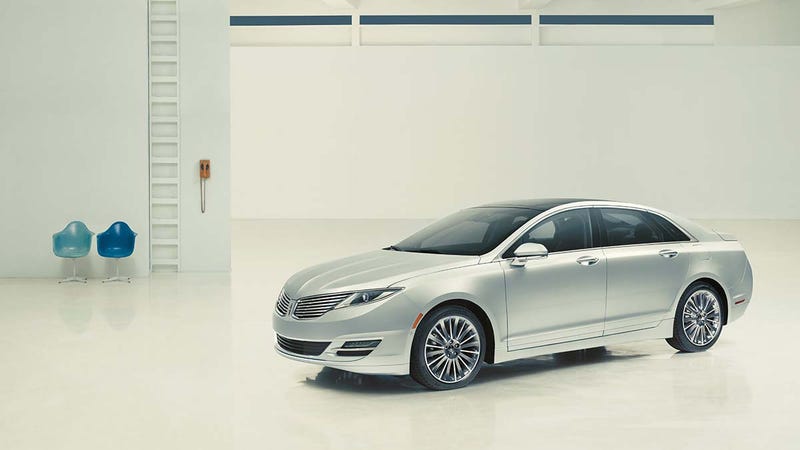 Today's topic of discussion is luxury car brands that are fighting to stay relevant. Unfortunately, there are a number of brands that fall into that category. There's Lotus, maker of the Evora, a "2+2," yet manages to be uncomfortable for everyone involved. There's Aston Martin, a company learning the risks of using the same platform for the last ten years and of using Chinese "plastic." And there's Acura, all of whose vehicles scream "entry-luxury" and whose salesmen scream "Don't forget us! We're going to have a new NSX in five years or so!"
But I'm going to concentrate on Lincoln because they clearly have no idea what on earth their purpose is and who they're competing with, which readers will find interesting since they've compared the MKZ with cars like a Lexus ES and Cadillac CTS. That and Acura narrowly missed being the subject of this piece since I'm still trying to make sense of their peculiar TLX presentation at the Detroit Auto Show.
I know at every auto show press conference, quarterly earnings call, and any conversation Lincoln boss Jim Farley has with an auto journalist, we all ask what Ford's strategy is for Lincoln. The focus always is that Lincoln's rejuvenating its products and using the "Hello Again ad campaign" to get onto consumers' radar. Plans to sell Lincolns in China are constantly alluded to as well, presumably because as a country known for copying cars, they don't care if an American company pulls one over on them.
However, after the Los Angeles, Detroit and Chicago Auto Shows, where Lincoln had many opportunities to instill confidence in us, which they attempted to do by unveiling the MKC, the Navigator, and the Black Label "ultra-luxury" trim package on their cars, I'm not at ease that the Lincoln Motor Company knows what, and where, it wants to be.
As a result, I came up with a few reasons that best explain how Lincoln doesn't really know where it's going:
The Livery Vehicles Aren't Respectable
I'll be honest. I loved the Town Car as a livery vehicle. That Panther platform could absorb all the bumps, swallow plenty of luggage, and everyone else believed you were important. When you were dropped off at the airport, picked up from a gala, or driven through the city, everybody believed that you in the back of the car were important, and not to be messed with. This was true whether you were a straight-laced executive, simply on your way home from the airport, or a bachelorette party attendee shouting out obscenities through the sunroof with a champagne bottle in hand.
Now they offer the MKT, the Navigator, and from last year, a livery version of the MKS, presumably because of the accumulated inventory. Unfortunately, using any of these cars carries no cachet. Get dropped off at prom in an MKS, and people will think your grandfather was forced to drop you off at the last minute. (After all, Larry King does own one.) Go to the airport in a Navigator, and you're immediately a celebrity target for the airport police and paparazzi. Arrive at an event in an MKT, and the greeters will direct you towards the local private school pick-up line. None of these vehicles exude prominence.
The Marketing Strategy Is Horrible
First let's focus on the television advertisements. If you've been watching football for the past few months, you've probably seen that MKZ vs. Lexus ES/Cadillac CTS comparison ad with the yuppie couple. First off, no company should seek to compare itself with the ES350, a car whose customers have an average age of 50. Secondly, I've met couples like those who research things to the last detail. They go to the Volvo dealer and buy an S60 T5. Personally, I think Lincoln had a better chance with those sadly short-lived MKX TV ads with Roger Sterling. Sure, the MKX was essentially a restyled Edge, but the caddish "silver fox"-ness to Roger Sterling at least made you consider a Lincoln.
Even more peculiar is one of Lincoln's other marketing strategies. They now have something called the "Lincoln Date Night" for prospective customers, where Lincoln offers a 24 to 48 hour test drive and pays for a $100 dinner for two. The best part is Lincoln makes pains to state there's no obligation to buy the car. This is perfect for the entirely plausible scenario of taking your girlfriend who refuses to ride in your autocross-prepped Miata to a nice dinner subsidized by Lincoln. After all, that'll leave some money for a new sway bar.
Their Dealer Network Has Lapsed
Some people may point this out as a good thing. This is because before the recession, there were way too many Lincoln dealers compared to the number of Lexus and Mercedes-Benz dealers. As a result, Lincoln required dealers to make expensive showroom upgrades which thinned the herd, many of whom weren't prepared to make the upgrades since they sold tens of Lincolns a year, which did make them more profitable. However, the closing of Lincoln dealers has resulted in some questionable situations in certain markets, such as actually not having enough dealers.
Nowhere has this become truer than where I live, in the San Francisco Bay Area (unless some Detroit automotive publication decides "Forget everything he's said about BMWs! Let's hire that man to summarize press releases!"). Here, there are an equal amount of both Lincoln and Maserati dealers (5). This means that in a market where hundreds of thousands of cars are sold, Lincoln has an extraordinarily weak presence. When Mercedes-Benz, BMW, and Audi have more dealers than you in a key sales region, it's time to take a second look at the sales strategy.
They've Become Mercury
On the eve of the 21st century, Lincoln introduced the Lincoln LS. It was rear-drive, available with a V-6 and V-8, and had a manual option. It was even Motor Trend's Car of the Year. Most importantly, it was differentiated significantly from anything Ford made. The same was true of the Continental and the out-of-production Mark VIII coupe, which had plenty of 1990s whiz-bang technology and better quality interior materials that the finance people would never have considered engineering into a Ford product.
Today, there's no V-8 availability on any of their products, including the Navigator. Many of the key high-tech features (like SYNC) are in the Fords as popular options. There are no rear-drive passenger cars. There are no convertibles. And most important, for a company that created (and made a lot of profits from) the "personal luxury coupe," there's nothing to compete with the 4-Series, A5, and C-Class.
The worst part is every Lincoln product today can directly be linked with a Ford product. The MKZ can be linked with the Fusion. The MKX with the Edge. The MKT with the Flex. The MKS with the Taurus. The Navigator with the Expedition. And the new MKC with the Escape. The kicker is the Ford cars look better and are anywhere from $5,000 to $10,000 cheaper than their Lincoln counterpart. Sure, they offer a few features that Ford products don't, such as automatically adjustable shocks, rear seatbelt airbags, and ventilated seats. Yet every review and news snippet about Lincolns reference the Ford product they're based on and examine whether the Lincoln is worth the premium.
Slightly better-equipped and restyled Ford products had a place not so long ago, and they were called Mercurys. Consumers, having caught on, stopped buying the Sables, Mountaineers, Milans, and Montereys because the Ford versions both looked better, were cheaper, and for the most part offered the same features. The same, lamentably, can be said of Lincoln's entire lineup today.
In the end, Ford needs to work on making Lincoln a respectable brand in the United States, not just state that they're focusing on China and contending their luxury vehicles can compete with the best from Audi, Lexus, and Cadillac.
Otherwise, Lincoln will find itself offering all-expense-paid resort vacations instead of date nights. I might just take them up on that one.
Satish Kondapavulur runs Clunkerture, named because "Clunker.com" was $82 at auction and would've taken 30% out of the balance of his Ferrari Mondial for LeMons fund. He is currently attempting to get rid of a 1/24 scale DUBCity Cadillac Escalade EXT. If you want it, tweet at him with online sales listings of fun cars to buy under $5,000 (that aren't a Miata).
Image credit Lincoln.