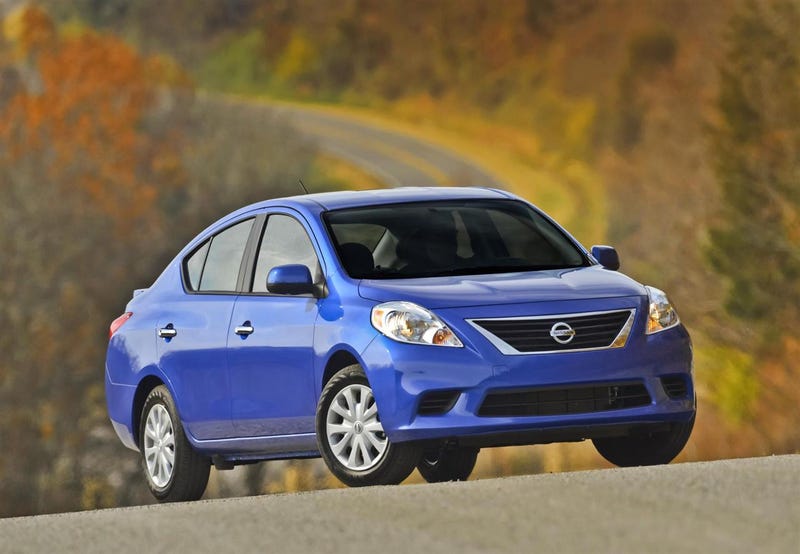 We all have our automotive nightmares. On Jalopnik, this mainly consists of "Oh no! The Miata's gone front-drive!" to "Darn! I can only find automatic CTS-V wagons on Autotempest!" to "Egad! Dash cams are banned in Russia? What am I going to watch on my coffee breaks?!"
You're now thinking "Why is my salesman's nightmare of selling a brand-new Sonic much more important than my nightmare of brown diesel manual rear-drive station wagons going away for good?!" Well, the difference is the salesman's nightmare occurs on a weekly basis, while your absolute worst nightmare will happen in 20 years, when the last diesel Mercedes W123 wagon hits a giraffe in the African bush, rendering both species extinct.
And you also can't believe car salesmen have those kinds of nightmares. You know, nightmares of actually having to sell a car. In fact, those should be the best dreams for them. Instead, their bad dreams should involve a duped customer coming through their bedroom door with a chainsaw because they have a balloon payment due on their Escalade which they didn't see coming.
On the other hand, you have nightmares about car salesmen, dreams that they'll lowball your beloved Miata when you trade it for a WRX, that they'll make you pay too much for the extended warranty, that the salesman will keep on leaving you weird voicemails and e-mailing you for weeks on end about why you didn't buy his wonderful car.
But a customer getting a brand-new small car is indeed the salesperson's worst nightmare. For a start, the profit margin for the dealer is low. And since you've gone in during February, there won't be any manufacturer incentives. Which means the salesperson will not think attempting to sell this subcompact is not worth his or her time. They want to ensure you're worth their time for the next few hours. Otherwise, with a low base salary which incentivizes large commissions, they'll want to wait around for that customer who buys the big high-end SUV/crossover/truck who'll hopefully walk through the showroom doors.
Now you may wonder "How about those used specials I see at dealers for $4,000-$8,000?" Well, many of those used cars were either traded in or bought at auction for a song. At their list price, there's about $2-3,000 (sometimes even more) worth of profit. And, most important, individuals who go to the dealer to buy such cars probably need financing and probably don't have the best credit in the world. All of this means high interest rates, which means higher profits and commissions for the dealer, and the fact they're not selling a brand-new car means the paperwork goes down significantly.
As a result, when you walk into a new car dealership to buy a base Fiesta/Sonic/Versa/Dart/Mirage without having corresponded with any dealer personnel ahead of time, you won't be in for the best experience. Salespeople might actually run away from you and direct you towards other salespeople because of the paltry commission from being with you for the next 3 hours of their lives.
Here's how this plays out at a CJDR dealer. (If the salesman couldn't run away fast enough once you stated your intentions.) When you walk into the showroom, you'll approach a Viper that is roped off from proletarians like you. Within ten seconds, you'll be greeted by a salesman, who'll ask the requisite "What brings you here today, sir?"
You'll respond with, "Is that the new Dodge Viper?" to get the conversation off to a start. Immediately, the salesman will respond with, "No sir. That's the new SRT Viper." Clearly the customer-salesperson relationship is off to a great start. And the customer is this case was wrong.
Eventually after all that banter you'll say you'd like to test drive a Dodge Dart, particularly with the Tigershark MultiAir engine, preferably the SXT model. After a remark stating how you really know what you want, the salesman will ask you whether you're paying with cash or financing.
Believe it or not, there is a right answer to this question, and it's financing. You see, financing a car at the dealership means additional profit for them, which means an added commission for the salesman. After all, he's spending the next three hours of his life with you, and on a low margin car like the Dart, he has to eke out as much money from you as he can on such a low profit margin car.
While you're waiting for the salesman to get the keys to the Dart, he'll ask you to look at the other vehicles in the showroom, cars like the 300 and Challenger, and any Jeep or Ram except for the Compass and Dakota. When he comes back, he'll ask you whether you liked those cars and would consider them. Then, he'll say the inevitable "We can do that one for an extra $10 a month in payments." Never mind the term or interest rate of the loan. But he's looking out for you by not sticking you in such a "dinky" car. He seriously wants to make sure you don't get a Dart!
But you, the savvy customer, did your research on Consumer Reports, took a look at the Edmunds True Market Value, knew what to pay for that new Dart, and you're getting a new Dart for that price. So you walk out the door, thinking when you pull that trick, the salesman will come after you. But he won't, simply because you aren't worth the $100, or $200 at best, of commission that he'll earn on your sale vs. the at least $400 he'd receive on a Grand Cherokee. The next day, you'll be telling your friends and co-workers how "x" dealership constantly gave you the run-around.
So the takeaway from all this? Whatever you do, get your new subcompact car by means other than walking into the showroom saying "I want that car and I'll pay this and not a cent more and I have a check in hand." Contact the Internet Sales Manager of numerous dealerships in your area through the dealers' website for a particular car. Most dealers should e-mail you back quotes for the car. Their goal is to make the transaction as quick and painless for both parties as possible. Be wary of the ones who have no quote but insist you come down to the dealership.
And for the love of God, find a brown manual transmission-equipped diesel rear-drive station wagon and buy that instead.
Satish Kondapavulur runs Clunkerture, named because "Clunker.com" was $82 at auction and would've taken 30% out of the balance of his Ferrari Mondial for LeMons fund. He is currently attempting to get rid of a 1/24 scale DUBCity Cadillac Escalade EXT. If you want it, tweet at him with online sales listings of fun cars to buy under $5,000 (that aren't a Miata).
Photo credit Nissan.